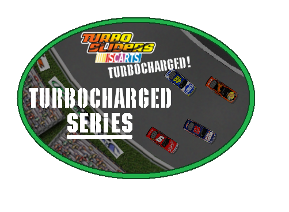 Hey guys! SCARTS has currently been upgrading several racetracks in preparation for a new 8-race Cup utilizing tire wear.
Shyguy1001 has paired up with me to design a realistic tire wear combination to enhance race strategy in SCARTS. Long races will have more purpose now to learn what your car does at various fuel/damage levels and to figure out the optimal setting to make a run for the checkers when it counts.
The driving lines in the turns now also affect the rate the car damages. The lower line you run in the turns, the tires take more aggression and will wear faster, which in turn will slow your car quicker. If you want to conserve tires, you may want to run a higher line in the turns, as physically, you are making a wider arc which lets the tires take less stress.
This technique will add a ton of strategy and will influence drivers to race various lines instead of one 'lap wanking' line to promote more passing and side by side racing, the way oval racing should be.
We will race at eight tracks: Phoenix, Bristol, Daytona, Homestead, Infineon (road course), Dover, Charlotte, and Indianapolis. The format for the championship is as follows:
-Points Structure-
The best six of eight races will count towards the Turbocharged Series championship.
Basically, as long as you race six races, you have a chance to win the title. Any additional races you run, if you finish any higher than your worst finish, you can replace that with your latest finish to gain back some points. The driver who scores the most points will win the Turbocharged Series title.
Racetimes will be announced officially on here, but are up for vote on our new forum a week before so you can get your say in on when to race. So check regularly.
New Forum:
http://turboscarts.darkbb.com
Please register on the site with any car number you wish to use. And look out for downloads as they are posted. Also read through the rulebook when its posted.
I hope to see you all experience the new 'Turbocharged' SCARTS Racing!
-Registration-
Click here if you want to sign your entry into SCARTS.
http://turboscarts.darkbb.com/2010-scar ... ups-t7.htm