Hey Turbo Sliders!

I welcome you all to the 2016 SCARTS Full Throttle Cup Series. Our first preliminary event kicks off today, Thursday, February 18th @ 22 GMT - the SCARTS Shootout preceded by Daytona 500 qualifying. If you are new to SCARTS - it stands for Stock Car Auto Racing on Turbo Sliders, a series that very closely follows NASCAR. I've managed SCARTS since 2008 and have always had a blast providing such a unique series to Turbo Sliders.

The SCARTS Full Throttle Cup Series is our premier league - a 24-race Cup - consisting of 16 regular season races and an 8 race playoff round. Winning a race during the 16 regular season events earns you a spot in the playoffs called 'The Chase' and bonus points are awarded for each successive victory going towards a points reset that occurs when the playoff commences. (There is a prerequisite of eight starts in order for the win to qualify you in the Chase.) In addition, players in the Top 3 in points without a win will also be granted entry.
Our racetracks consist of NASCAR ovals such as Talladega, Charlotte, Phoenix and road courses such as Watkins Glen, Mid-Ohio and Tsukuba. Five road races are run during the season, while ovals make up the other 19. Our secondary series, the Road Course Series, focuses solely on the road aspect which runs later in the year.
SEASON OPENER
==============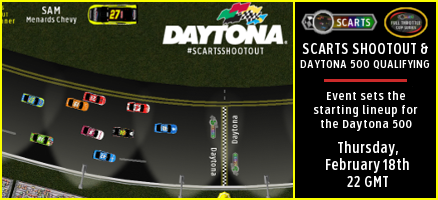 Every year we kick off the new SCARTS season at Daytona International Speedway, just like NASCAR. What's neat about this track in particular is being able to use the drafting features that were debuted in Turbo Sliders version 2.4 to mimic restrictor plate style racing that is done in NASCAR. This style of racing depends highly on 'the draft' (or slipstream) to stay in contention. Cars will most likely be running within 1 second of the race leader at all times unless you fall off the back.
This video provided by d0re shows a test we had recently done at Daytona preparing for today's event. Our race rules are in effect so you can learn from this video:
https://www.youtube.com/watch?v=A-OQWidjwiw
The Shootout will closely resemble this test run and is a qualifying race for our big SCARTS Daytona 500 event. Details on the qualifying session and the race format can be found on our freshly upgraded website:
http://turboscarts.darkbb.com/forum
While you are there, be sure to register for a car you'd like in the first section of the site.
These races are streamed by our fellow racer, d0re, and are posted on YouTube for viewing soon after each race. You are welcome to join each race stream going to twitch.tv/d0re and can catch replays of the races on YouTube (youtube.com/d0re). Those races are also linked on our website and updated regularly.
I apologize for the late word on this race, but this is after all a preliminary which will set the field for our annual Daytona 500 planned for next week - date TBA. I'll be sure to update you all on turbosliders.com in addition to our site.
I hope to see some of you give SCARTS a shot.
Happy Racing!
- Burnout