Hey Turbo Sliders, it's Burnout once again!


SCARTS is entering its 11th season and as always I'm welcoming all of you to join us, beginning the first week of March. Races are usually hosted on Wednesdays, so our first race will kick off on March 8th for the newly renamed - SCARTS Turbocharged Cup Series!
We used to host on Sundays in years past, but due to the F1 World Championships, I moved our series to run midweeks since the launch of that series in which many of you compete in.
During our offseason, we ran a truck series cup in which Burnout outraced Dore in the series finale and claimed his second truck championship.
SCARTS Racin' Edge Truck Series race winners: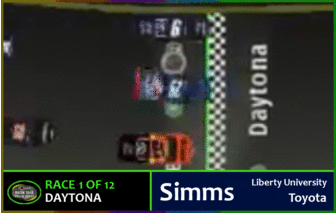 Dore is our 2016 Cup champion, looking to go for his third straight title in 2017. Registrations are now up for 2017 - I encourage you all to join us and experience some great stock car racing action. I have been pleased with the cult following SCARTS has had over the years but I am always inviting to the rest of the community to have some fun with us! SCARTS is a passion of mine and I love to share this racing series to the rest of the Turbo Sliders community, so check us out!
Racing will start with the SCARTS Shootout, a qualifying race to set the field for our annual SCARTS Daytona 500. The qual race will be 60 laps and the 500 will likely run the week after. Daytona is a drafting track - so the racing field will all be in one big chunk of cars making continuous passes. The key to winning this is finding a friend to draft with that will help you keep in track position in the draft and then timing your move to win the race.
Files you need for raceday:
CARS DOWNLOAD (Pack #1 - Superspeedway)
http://www.mediafire.com/file/8efw1y7aa ... k+%231.rar
TRACK DOWNLOAD (Daytona - Shootout)
http://www.mediafire.com/file/qz6cgcf2z ... -Night.rar
Here is a video of the 2016 SCARTS Shootout, courtesy of Dore.
https://www.youtube.com/watch?v=91xoV8Hj4Ww
SCARTS is always looking for new players so I am willing to train you all!
Our site:
http://turboscarts.darkbb.com/forum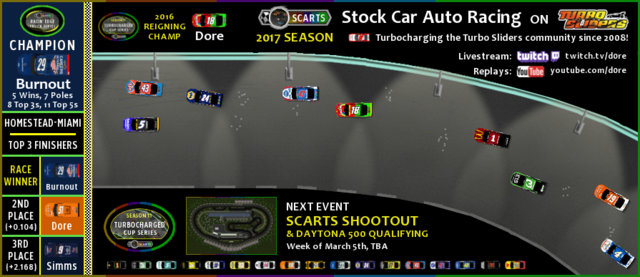 Register here:
http://turboscarts.darkbb.com/t1491-201 ... istrations

Currently Registered:
- Burnout
- Szymek
- Laf
- Dore
- Jaw$
- WiltshireRipper
- Simms
- Delux