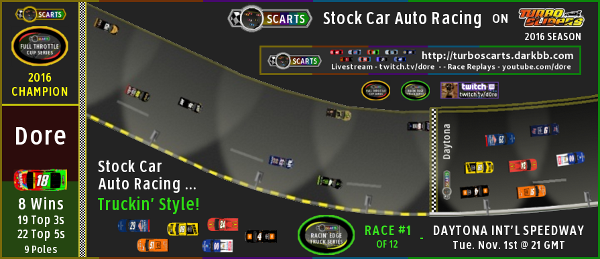 Hello again Turbo Sliders! It's SCARTS time once again!
Dore is fresh off his 2016 SCARTS Full Throttle Cup championship looking to build upon that momentum going into our SCARTS Racin' Edge Truck Series. We ran one full season of Truck back in 2009 (then known as the Rough & Ready Truck Series) and expected to run it in 2010 renaming it the (Racin' Edge Truck Series) but plans fizzled out. Those plans are now BACK and we will kick off Season 2 of the truck series at Daytona this coming Tuesday!
Our good buddy Kooler, is the defending winner of this race, from way back in 2009 on the older Daytona. Daytona now will be in a draft race format like it was in Full Throttle Cup (You can view our latest drafting race at Daytona from Full Throttle Cup here):
https://www.youtube.com/watch?v=UaLIjv_a_2Q
We will debut a new points system starting this cup, so please read up upon it!
http://turboscarts.darkbb.com/t1432-new ... -2017#4599
And if you haven't selected your truck yet - visit this link:
http://turboscarts.darkbb.com/t1431-201 ... istrations
Get ready to strap in and go Stock Car Auto Racing - TRUCKIN' STYLE!
For more info on SCARTS, here is our main website link:
http://turboscarts.darkbb.com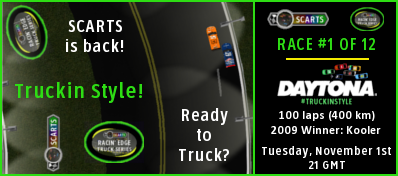 RACE #1 @ DAYTONA
=============
When: Tuesday, November 1st @ 21 GMT
Race Length: 100 laps
2009 Winner: Kooler